Vietnam Lotte Center's New Lighting Design Inspired by Blooming Lotus Flowers
2014/4/13 view:
Inspired by "ao dai", the traditional Vietnamese garment for women, the 65-storey mixed-use Lotte Center Hanoi is designed to celebrate the cultural heritage of Vietnam. Comprised of two towers connected by a series of sky garden atria, Lotte Center Hanoi consists of commercial offices, a shopping mall, an observatory deck, a 5-star hotel, and serviced apartments.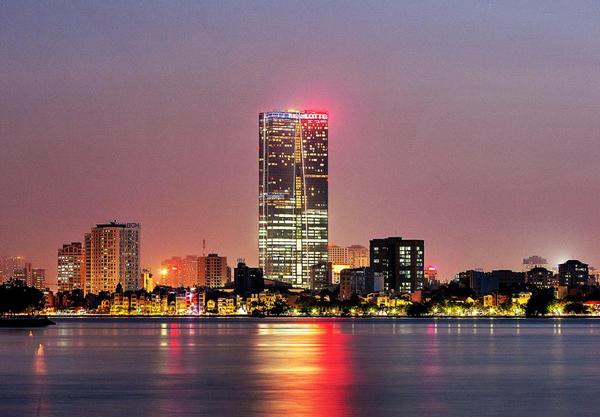 Vietnam's Lotte Center after Traxon LED upgrade. (All photos courtesy of Lotte)
The building façade is defined by pairs of bold vertical lines flowing upwards, symbolizing the lines of the "ao dai" long-dress as well as reaching out towards the sky to represent Vietnam's growing influence in Asia. At nighttime, the building façade is illuminated with dynamic color effects via 170 pieces of Traxon Liner Shield AC XB.
The lighting design concept draws from both "ao dai" and lotus flower, the national flower of Vietnam, to represent the beauty of Vietnam. The dynamic color effects represent various designs of "ao dai", while the mono-color illumination mimics a lotus flower which symbolizes purity, serenity, and optimism of the future to the Vietnamese. The dynamic lighting control is enabled via the e:cue control engine Butler S2. OSRAM POWERBALL HCI-TC is used for Lotte Department store which is located in 1st to 6th floor of the same building. The 267-meter Lotte Center Hanoi is an elegant, iconic tower in the Hanoi skyline and the first sustainably designed high-rise in Vietnam.